Fresh Grade and Fresh Grade Next Presentation
Communication platform between teacher, parent, and student for creating.
Lesson Plans
Easy to use tools
Align activities to standards, frameworks and assessments
Digital Portfolios
Store and highlight learning
Students can customize their portfolio
Online journaling for self reflection
Keep track of student learning through different forms of media evidence
Announcements
Post announcements for upcoming events
You can see which parents have read
Activities
Post schedules and homework assignments
Track progress
Can choose assessment tool or make own
Progression Reports
Great for communication concerning student learning progression
Early intervention
Engages parents
Evidence of learning is readily accessible
Report Cards
Can add anecdotal comments
Convenient access to student report cards
Standards based, score-based
| | |
| --- | --- |
| Fresh Grade | Fresh grade next |
| upload 1 photo at a time | upload multiple photos at once |
| Gradebook and portfolio looks different on all devices | Gradebook and portfolio look the same on all devices |
| Announcements go to the whole class | Announcements can be customized, can be used like email. (i.e. you can email 4 students through fresh grade next rather than the whole class) |
Important to educate parents!
– When they post a comment, only the teacher can see it, not all the other parents
– Privacy concerns – when you download a class photo from fresh grade you cant post on social media
Tips
– When first starting, just use for communication and announcements
– Focus on 1 subject
-Photograph groups and tag students
When you "share as a highlight" – this notifies parents to look at your post
-Quick note
-When you email FreshGrade with a concern, make sure you email them with your school district email so they will reply to you ASAP.
Last presentation by Michael
Distinguish yourself as an Educator
Become google certified educator. Self-paced. Microsoft has the same thing.
https://teachercenter.withgoogle.com/certification
Great podcasts
Brains on
k-12 Greatest Hits
Get started with Smart Boards
Presentation on Virtual Reality & Augmented Reality
Install HP Reveal on your iPhone and Android: https://www.hpreveal.com/
edtechUVIC: edci336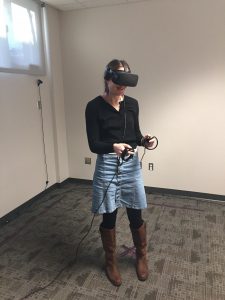 QR Code Generator
Great for anchor points.